Stop Dancing on TikTok: Knowing How to Market and How Agencies Can Help
If you're a business owner, you've probably been swamped with advice about what you "must" do to nail your marketing. We've all seen cringe-worthy attempts from companies trying to be relevant- picture attorneys in suits attempting the latest TikTok dance challenge. Sure, it can be good for a laugh, but does it really help reach the people you want to connect with?
Stop Dancing on TikTok
We at SOAR Media saw this trend popping up left and right and decided to have a little fun with it. We started a guerilla marketing campaign a year ago – cheekily named stopdancingontiktok.com – to get business owners thinking more about what's right for their brand.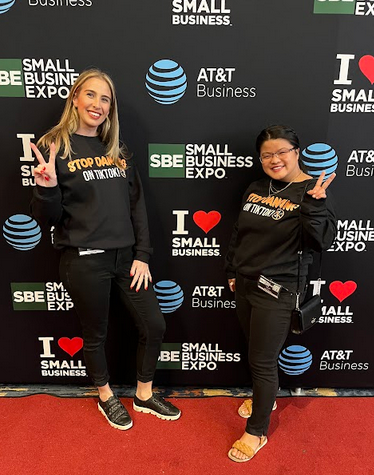 Now don't get us wrong. Some brands have had a blast and built a following with TikTok dances. But what works for one brand doesn't work for all. Viral dance videos might get you more followers, but do these followers become customers?
It's essential to remember that there are over 200 methods of marketing and advertising, and social media is only one of them and Tik Tok is not even in the Top 10 of US platforms for followers. Knowing how to choose the right method can make all the difference in the world for your marketing strategy.
The best place to start is by asking some questions about yourself/your business. Consider: What do I do, and how does it benefit my customers? What problem does it solve? Looking ahead, who might I want to reach in the future?
A Personal Note
Once upon a time, I (the copywriter at SOAR, writing this blog right now) worked at a different agency (scandal). A senior member there couldn't understand why I wasn't creating more Instagram content for a client. She pointed to GoPro's success on Instagram and suggested we could do the same. Now, reader, can you guess why GoPro might be doing well on Instagram?
The answer is clear: because it's authentic to their brand. GoPro's products are designed for action and capturing high-quality, immersive photos and videos in just about any environment. Instagram, then, is a perfect fit for them as an image and video-based platform. Their Instagram account is filled with captivating content captured by their users around the world, aligning expertly with the lifestyle and interests of their target audience. In contrast, their Twitter account has 2 million followers – literally 10 times fewer than their 20 million on Instagram. This also makes sense, as Twitter is a much less image-driven platform.
The Beat of your (Brand's) Own Drum
So, let's think about your business. If you're not selling outdoor action cameras, then mimicking GoPro's strategy might not be the best fit. It's like trying to fit a square peg in a round hole- your message just won't resonate the same way. Instead, your brand has its own unique value proposition and target audience. Understanding these, and crafting a marketing strategy that speaks directly to them, is the key to your success.
Remember, the goal is not to mimic another company's success, but to understand what makes your own brand unique and communicate that effectively. Here, the guidance and experience of a marketing agency like SOAR Media can be invaluable – we'll help you find the marketing strategies that fit your brand perfectly.
Tune into Your Audience
Every product, every service, and every brand is unique – and so are their audiences. Therefore, your marketing strategy needs to reflect this by honing in on the specific demographics of your audience. Demographic research is a vital component of this, as it helps you understand your audience's age, gender, income, education, and more. But this research goes beyond mere numbers and statistics; it delves into understanding who your audience is, what they want, and where they're most likely to engage with your brand.
Here's what this looks like in practice. Let's say you run a real estate agency. You conduct demographic research and discover that your primary audience is comprised of both younger, first-time homebuyers and older, established professionals looking to upgrade or downsize their homes. This knowledge can significantly impact your marketing strategy.
For the younger demographic, you might find they're most active on platforms like Instagram, where they're attracted to visually-appealing home tours and interactive Q&A sessions about the home buying process. Therefore, a good part of your marketing could involve creating engaging Instagram content like virtual home tours or live sessions offering first-time buyer advice.
On the other hand, your older demographic may be more comfortable with more traditional platforms like email newsletters or direct mail, appreciating well-curated listings and valuable market updates. Consequently, you might decide to spend resources crafting informative newsletters or market reports to keep these clients informed and engaged.
The beauty of demographic research is it allows you to identify and understand your varied audience segments. Consequently, you learn where is best to put your energy and budget to effectively reach each of them. However, diving into demographic research can be daunting, particularly when you're focused on managing your business. The good news for you is that you don't have to do it alone!
Let the Experts be your Trainers
As a marketing agency, SOAR Media is equipped with the tools, resources, and experience necessary to conduct in-depth demographic research for your brand. We're constantly immersed in the world of marketing, keeping our fingers on the pulse of ever-changing trends, understanding what's hot and what's not, and identifying the best ways to connect with various audience demographics.
Our job is to take the heavy lifting of demographic research off your shoulders. We'll delve into the data, spot the patterns, and translate our findings into a tailor-made marketing strategy that truly speaks to your unique audience. By partnering with us, you can focus on running your business, knowing your marketing strategy is in expert hands.
Instead of guessing your way through the labyrinth of marketing options based on popular trends (like TikTok), consider the smarter alternative. Our team at SOAR Media is made up of experienced marketing strategists with over 20 years of multi-industry marketing expertise. Yes, that means we've been in marketing before social media even existed! We've grown with it, learned to navigate the best of it, and helped our clients avoid the worst of it.
Your Perfect Performance
Your business deserves more than 15 minutes of TikTok fame. It needs a tailored, informed, and well-planned marketing strategy that really works for you. So, before you dig out those dancing shoes, let's chat. Reach out to our team at SOAR Media today, and we'll work together to create a strategy that fits your business like a glove.